Office Equipment – Full Colour Digital Output Devices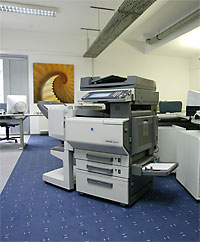 Have you ever wondered how the office equipment wrong purchasing decision would impact upon your company? What effect this would have on data output ? Networking, LAN, WAN, CAT 5, AUI, IPX/SPX, TCP IP. The jargon of networking can be completely alien and as technology advances even further towards Multifunctional Output Devices traditional buying becomes more difficult. Making the correct decision is absolutely paramount in future proofing your company.
Many traditional analogue photocopier companies together with 'Old School' salesman are also finding new technology difficult to grasp. These companies are choosing to scale down rather than invest into suitable qualified technically able sales professionals, thus offering you the clients piece of mind during a purchasing decision.
However, Photocopiers Direct has recently opened a branch in Central London offering over 20 years experience from a Technical and sales background to ensure all our clients requirements are fulfilled today and into the future. Consultancy from day one enables complete piece of mind taking the burden from you. Having consulted for some of the largest corporate PLC accounts and respectable LTD companies we would like to offer our services to you.
Our main specialities lie in Full Colour Digital Output Devices linked through the highly acclaimed Fiery and Network controllers, and across to Black and white Digital output devices that will facilitate Windows NT, Novell, Mac OS, Linux and various Unix platforms. Our highly trained technical staff offer online support and rapid call response to emergency call–outs. We are proud to boast our ability to fix the problem on the first visit in over 90% of all call-outs, the service you need and come to accept as normal.
With the ability to offer your company some of the most costs effective solutions on various product ranges, we would like to offer our services of consultancy through to supply to your company.
Latest Copiers
<!- View not found ->